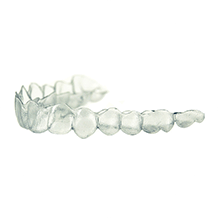 Invisalign is the most advanced aligner system available;  Dr. Thomas has completed the European Masters of Aligners Qualification and is a Diamond Level Provider.
A Diamond Provider is the highest status available for Invisalign and it makes Isle of Man Orthodontics one of the biggest specialist provider of Invisalign in the UK.  This is testament to the standards we work hard to uphold and is an accolade we will be looking to maintain for many years to come.
Dr. Thomas provides Invisalign treatment for many complex cases, including adults with implants and previous gum disease.  Invisalign is suitable for mild cases of crowding and spacing and as an alternative to twin blocks in teenagers, and for early treatment in children with developing dental problems.
Want to know if you are suitable for Invisalign?  Click here to take the smile assessment
Invisalign Aligners are worn in a series to gently align the teeth until the perfect smile is achieved, whilst having minimal impact on your social life and career, and no dietary restrictions.  Also ideal for frequent travellers as generally fewer visits to the Orthodontist is required.
You can also start gently whitening your teeth during the treatment using EverSmile White Foam
For more information and to visit the Invisalign website click here